Africa Cup of Nations Opening Ceremony
2019, Cairo - Egypt
The
2019 Africa Cup of Nations
, known as the
Total
2019 Africa Cup of Nations
, is the 32nd edition of the biennial international men's
football
championship of Africa. Opening Ceremony of the African Cup of Nations in Egypt. The AFCON is the 3rd biggest football competition around the world, gathering the best of African Football viewed by 300 millions pax.
For this AFCON 2019,
Circo de Bakuza
Roshan Soomarchun
and
Blink Experience
wanted to raise the bar and create a new standard and a ceremony people will talk about. It was the 1st full 360 video mapping ever made for a football event. We created a full Video content of 12 minutes that we project on all the scenic element (3 giants Pyramid, Carpet, Performers).
An artistic performance where history was mixed with technology, bringing to the world an extraordinary and poetic experience.
I was a part of the content creation team in Superbien Paris for this Award winning international Event which also broadcasted live all over the world.
The Show also won BeaWorld's Peoples choice award and 2nd in Best Sports Event category
Role: Art Directior / Motion Designer
Client:
Confederation of African Football
(CAF)
Agency: Circo de Bakuza
Design Studio: Superbien
Lead Motion Designer: Jean Pierre Sastre
Motion Design: Paulin Gerard, Joshua Catalano
Lead Art Director: Rémi Winterhalter
Project Manager: Caroline Gunther
Project Cordinator: Ombeline Vautelet
Documentation Video Editing: Jonathan Mascaro
Venue: Cairo International Stadium
Production: Blink Experience
Show director: Julien Pateau
Technical Crew: PRG
Choreographer: Tatiana Mirikou
Music: Start Rec
Pyrotechnic: Grand Final
Light Design: Concept K
---
For its 32nd edition, the Africa Cup of Nations was held in Egypt and wanted to take its opening ceremony to the next level.
In addition to celebrating the competition and the competing teams, the goal was also to produce an international show that put the host country, the cradle of global civilisation, in the spotlight from three different perspectives: rich cultural heritage, future technologies and the new generation.
This was achieved with a multi-sensory spectacle combining a mix of technologies: mapping, video content, pyrotechnics, a light show and live performance. An immersive experience broadcast live around the globe.

The studio achieved this ambitious creative brief, demonstrating its inimitable savoir-faire by producing a projection surface of exceptional dimensions. Beyond the total pitch area, our playing field encompassed three pyramids, the largest of which rose 20 metres high, four statues over 6 metres tall, three extra-large LED screens along the pitch and a fourth screen above the stands.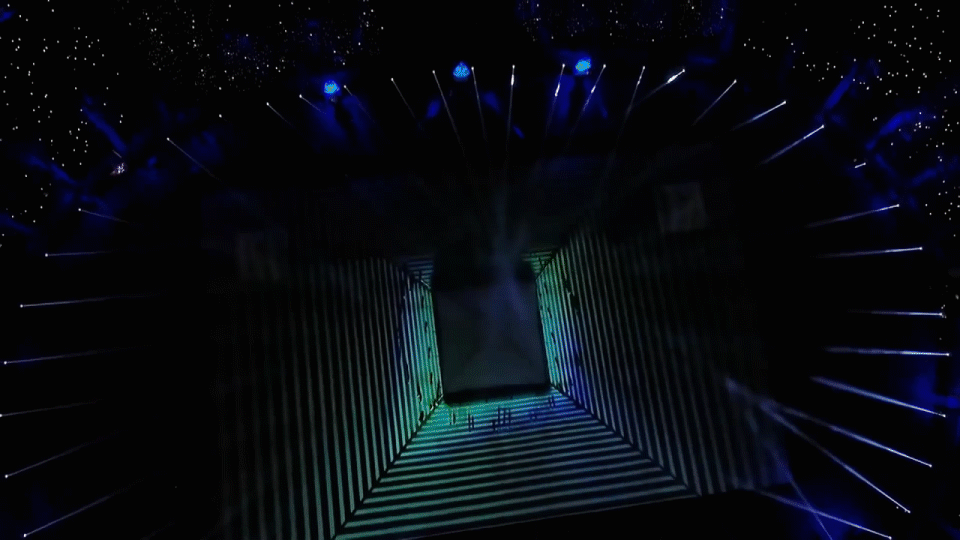 ---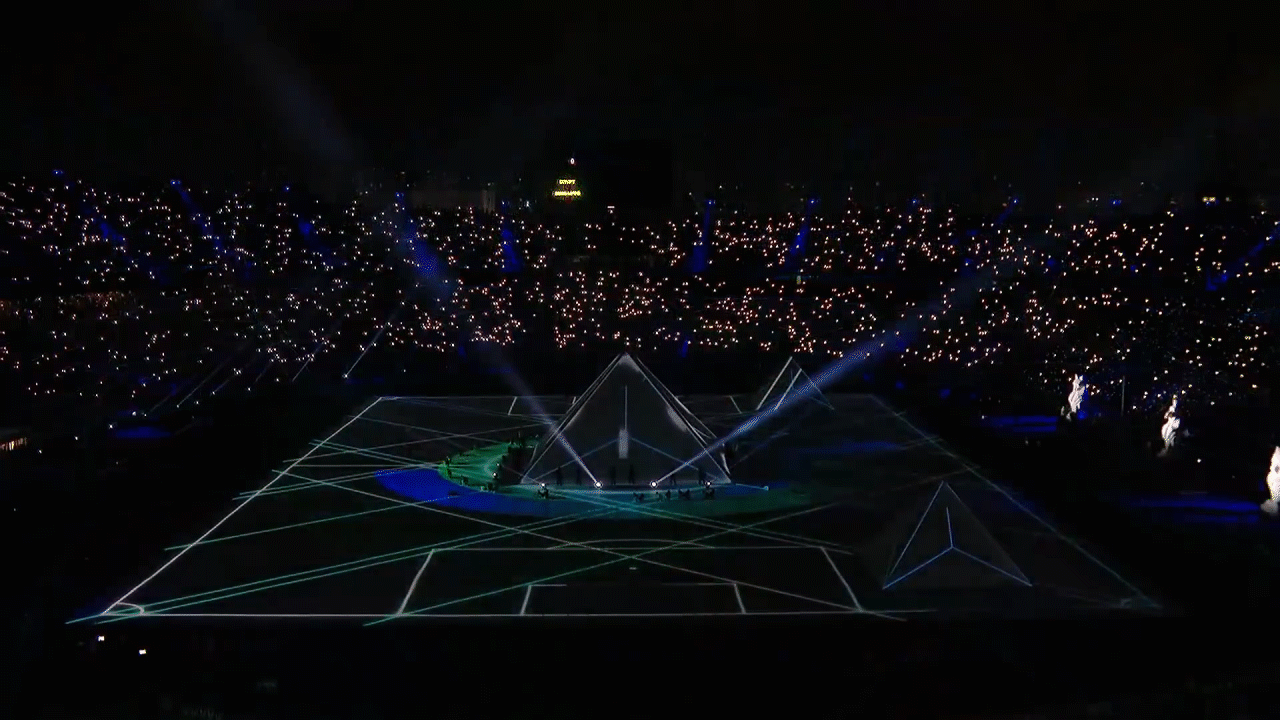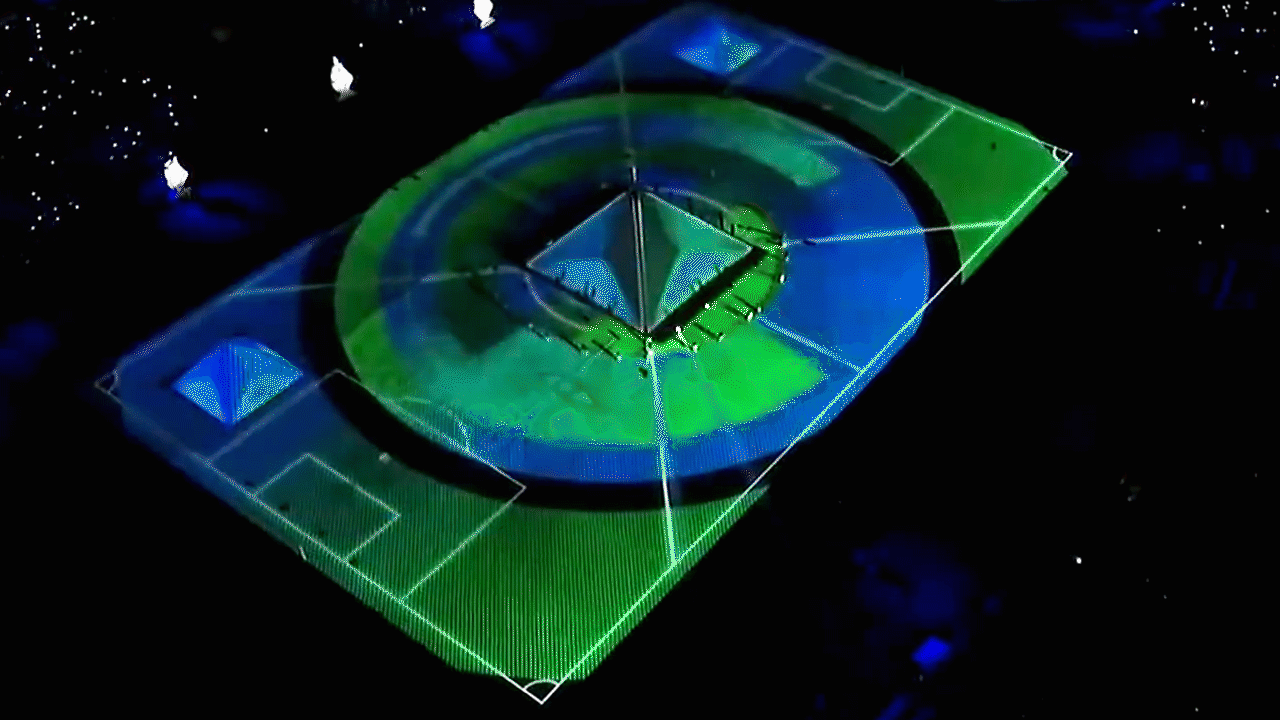 ---